Today, metal stamping is indeed one of the most growing industries that supply the needs of other industries. As the demands of stamped metal components get higher, businesses require a manufacturer where they can get the complete operations- the one with in-house stamping mold services.
In this guide, we will go over the top 10 providers of stamping mold in the US.
Location: Dongguan, China
Company type: Manufacturer
Year founded: 2012
Main product: Stamping mold, terminals stamping, progressive stamping, precision metal stamping, microstamping, deep drawn stamping
Gold Precision is the leading manufacturer of metal stamping with in-house stamping mold. We are here to assist you from R&D, engineering, stamping, tooling assembly, and production to inspection, packing, and delivery. We ensure our clients with high-quality and precision-driven parts and components that best benefit their needs.
We fabricate parts for aerospace, industrial automation, medical, communications, consumer electronics, and automotive applications. Our company produces 20 sets of stamping molds and 50 million pieces of metal stamping parts and components every month with at least 3 to 4 weeks production from the starting date.
To know more about stamping mold and metal stamping, visit our website and talk with us.
Location: Wisconsin
Company type: Manufacturer
Year founded: 1993
Main products/ services: Dies, fabrication services, molding services, molds, tool and die services
Tenere is a growing manufacturer of metal stamping, die and mold, and other stamping services, from establishing its offices in Wisconsin when it first started and now in Colorado and Mexico.
They facilitate all processes from prototyping, engineering, tooling, assembly, finishing, integration, testing, and delivery. Tenere serves Cloud Infrastructure, Fiber optics & 5G, Network Architecture industries.
Location: Wisconsin
Company type: Manufacturer
Year founded: 1988
Main services: Metal stamping, fabrication, machining, tooling
Miro has established its reputation for integrity in tooling and precision stamping. It currently produces products for architectural and structural metals, power management, lawn & garden, medical, and more.
This company is distinct on medium to high volume stamping production and accepts clients with low volume needs. Miro has ISO 9001:2005 certification through its efforts in maintaining its high standards and quality services.
Location: Michigan
Company type: Manufacturer
Year founded: 1988
Main products/ services: Metal stamping, molding, casting, fabrication, precision machining
With over four decades of experience in the industry, there is no doubt that TFG USA is one of the biggest and leading metal stamping manufacturers. They are servicing a wide range of industries globally, including agriculture, aircraft, automotive, construction, consumer products, electronics, marine, medical, oil and mining, telecommunications, and more.
TFG USA aims to maintain its ISO certification by continuing world-class quality standards. Its previous markets today are from Vietnam, Taiwan, India, Europe, and North America.
Location: Wisconsin
Company type: Manufacturer
Year founded: 1980
Main products/ services: Precision custom stamping, stamping mold, CNC machining, deburring,
Acro Metal Stamping has a long run in the business, making it capable of efficient tooling and high-speed production of quality, cost-effective metal stamped parts. They specialize in progressive and compound dies for the creation of tight tolerance small or medium-sized parts.
They supply primarily to various industries, including consumer goods, automotive, construction, defense, electronics, etc. Acro continues to invest with the newest technologies and their wide range of Hybrid AC Servo Press and numerous equipment and machines.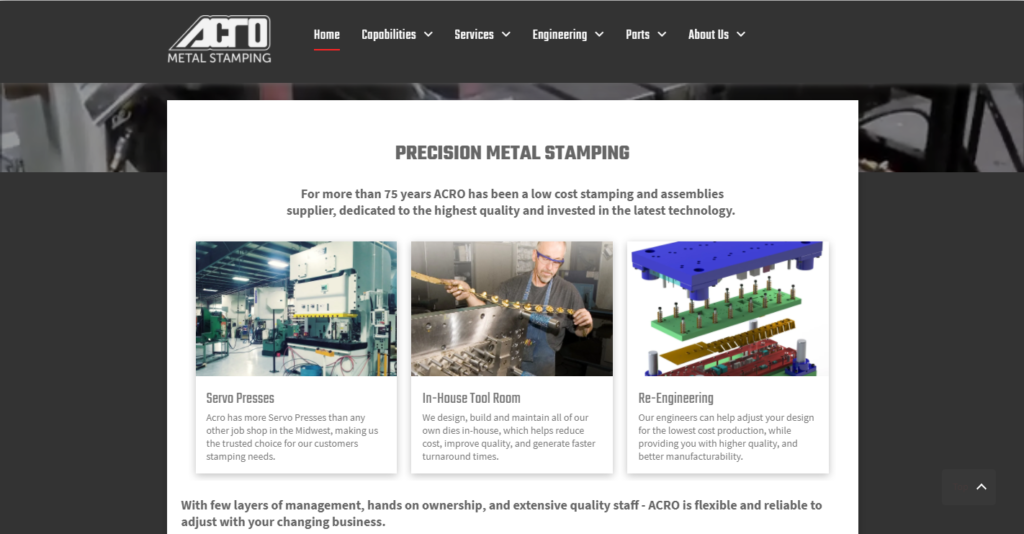 Location: Illinois
Company type: Manufacturer
Year founded: 1981
Main products/ services: Precision metal forming, metal stamping services, tooling services, laser cutting services
American Industrial Company is a one-stop manufacturer that serves the complete manufacturing of entire stamping. Also, they are ISO 9001:2015 certified for their precise and quality-driven vision.
AIC works with various industries worldwide such as automotive, military & defense, appliances, electronics, constructions, hardware, etc. Some of the benefits you can get from them are cost-effective and quick turnaround of products.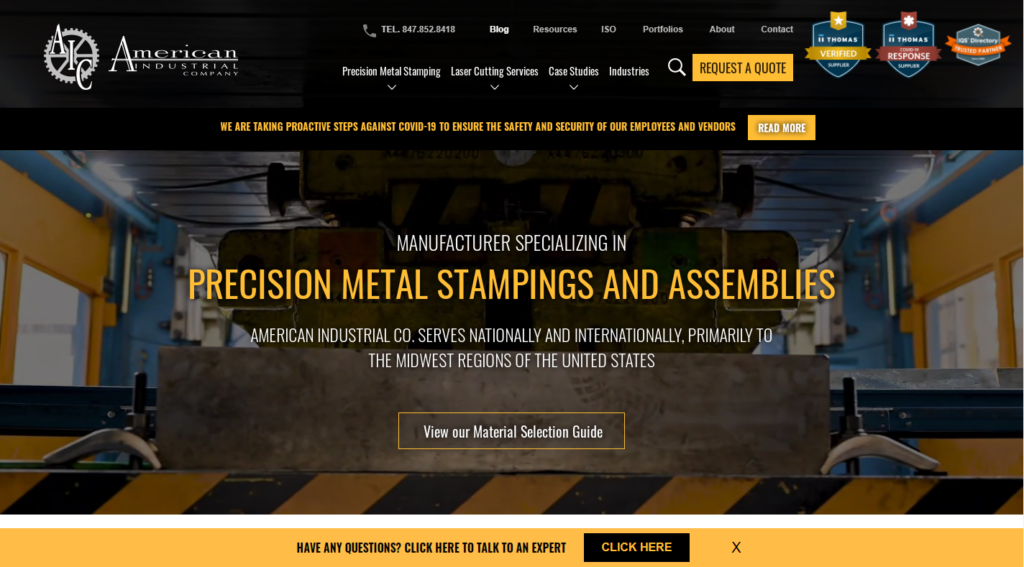 Location: Illinois
Company type: Manufacturer, exporter
Year founded: (Established in 1967)
Main products/ services: Metal stamping, EDM machining, deburring, laser cutting, CNC milling
G&M manufactures metal stamped parts mainly for automotive, electrical, industrial, consumer products, electronics, and medical industries. They specialize in the production of medium to high volumes of small and mid-size components.
Moreover, G&M ships worldwide, wherein 40% of their sales are being exported. The company can mass-produce from all types of plastics, exotic metals, hardened alloys, ferrous, and non-ferrous metals.
Just like American Industrial, they have ISO 9001:2015 certification.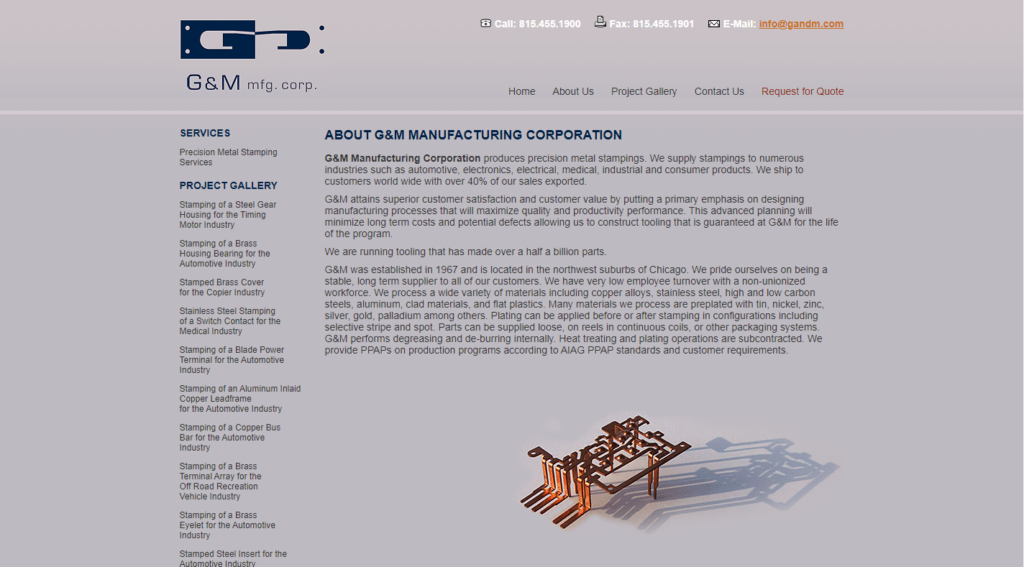 Location: Florida
Company type: Manufacturer
Year founded: 1987
Main products/ services: Metal stamping, injection molding, insert molding, assembly, tooling
Sun Microstamping Technologies has two manufacturing facilities- in Clearwater, Florida, and Matamoras, Mexico. Advanced energy, automotive, medical, dental, electronics, telecommunications are most of the industries they work with.
Sun's clients are getting assistance from designing, stamping, molding, and production to transporting parts and components. They provide microstamping with ultra-tight tolerances, specialty materials, complex part geometries, and in-die assembly operations.
Location: Wisconsin
Company type: Manufacturer
Year founded: 1984
Main products/ services: Molds, stamping services, machining, tool & die services
Daco Precision-Tool is ISO 9001:2008 certified serving industries, namely aerospace, medical, agriculture, railroad, construction, electronics, automotive, marine, military, and other applications.
Daco has capabilities of burnishing, drilling, sinking, deburring, welding, tapping, and more. For precision metal stamping, Daco uses carbon steel, stainless steel, aluminum, brass, and copper materials.
In addition, Daco is a one-stop-shop manufacturer which has in-house tool and die operations.
Location: Illinois
Company type: Manufacturer
Year founded: 1995
Main products/ services: Molds, molding services, prototyping services, die casting, stamping
Advanced Prototype Molding offers large production runs for stamping mold, including services like design, mold engineering, pad printing, silk screening, in-mold labeling, and assembly.
APM uses injection molding for adequate rapid prototyping and production of metal components. Manufacturing epoxy, aluminum, and steel molds are one of their expertise. This company is certified by ISO 9001:2015.
Final Thoughts
Investing in the proper manufacturer where everything necessary for your operation is available is a must. Aside from building an adequate bond and ties, you are sure of getting a great deal, and there is no way you will lose track of your metal stamping application requirements. This guide will inevitably open doors for you!