Do you know what stamping mold is all about? All of us can be aware of what the metal stamping industry contributes to everything that surrounds us. Still, we must know that every stamped metal must have molds- and not all metal stamping manufacturers have their in-house mold production and equipment.
Stamping mold is the process of creating two-dimensional shapes and applying pressure from blanked and coiled sheet metal to attain parts and components with fixed sizes, shapes, and properties. Below is the list of the top 10 manufacturers that offers stamping mold.
Location: Dongguan, Guangdong
Company type: Manufacturing
Year founded: 2012
Main product: Stamping mold, terminals stamping, progressive stamping, precision metal stamping, microstamping, deep drawn stamping
Gold Precision not only offers metal stamping of parts and components, but we also execute stamping mold. We take our part and innovation; that is why we are prompt in providing micro-precision stamping mold and hardware solutions. We deliver products on time based on your preferences and customizations.
Annually, our company produces 240 sets of stamping molds and 600 million pieces of metal stamping parts with the production of at least 3 to 4 weeks from the starting date. We create products for aerospace, industrial automation, medical, communications, consumer electronics, and automotive.
For more information about our services and products, you may visit our website and talk with us.
Location: Yantai, Shandong
Company type: Manufacturer
Year founded: 2003
Main products/ services: Stamping mold, automotive mold
Tianhong Die & Mold Company is a mature automotive stamping mold manufacturer in China that has been in the industry for 18 years. Its main markets are East Asia- Japan, and South Korea. They have extensive knowledge of automobile structural stamping parts.
With this, the company gained certification from American General Motors and Japan Mazda Motor. Most of their domestic clients are independent car brands such as F.A.W., Foton, BAIC, Sinotruck, with joint venture brands such as Mazda, FAW-Volkswagen, and Hyundai.
If you want someone specializing in your automotive mold needs, then this manufacturer is what you need to look for.
Location: Zhongshan, Guangdong
Company type: Manufacturer
Year founded: 2005
Main products/ services: Mold products
Huihai production of molds is scattered globally through its domestic clients and foreign partners, including Sweden, the United States, Iran, and Spain. Unlike Tianhong, they do not just focus on automotive parts but also produce components for consumer appliances, electrical, and electronic products.
This company is ISO 9001:2005 certified. Annually, they can make as many as 500 sets of mold and 1,000 pieces of mold and die within 1 to 3 months lead time, both peak and of season. Some of its reputable clients are well-known brands of Electrolux, Welling, and Philips.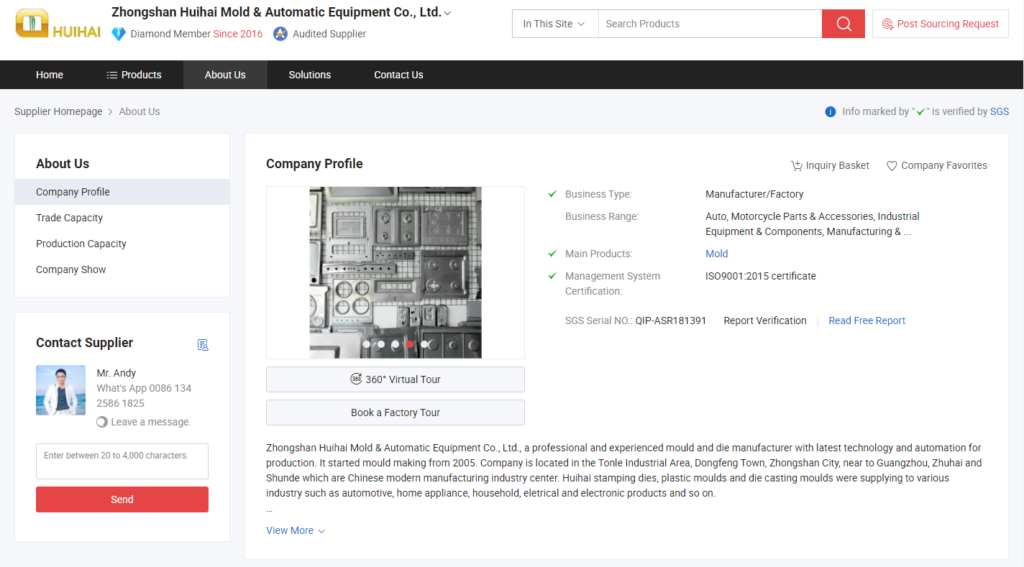 Location: Qingdaso, Shandong
Company type: Manufacturer
Year founded: 2000
Main products/ services: Metal stamping, stamping die, iron casting, truck body and cabin
For over two decades, Hailong has been known in China and rated as one of the Top 100 Technological Firms in Qingdao and Top 100 Medium and Small Enterprises with Branding Potential in China.
As for being a stamping mold manufacturer, it comprises numerous equipment including C.N.C. machining, stamping, welding, and molding with 126 skilled technical employees to give quality parts and components.
They manufacture locally and internationally in the United States, South Korea, Canada, Australia, and India.
Location: Suzhou, Jiangsu
Company type: Manufacturer
Year founded: 2013
Main products/ services: Stamping mold, stamping parts
One of the mold manufacturers that prioritize markets in China is Kunshan Wangdaxin. As of this writing, they mainly cater to domestic clients for auto and motorcycle accessories, photoelectric mold, home appliance mold, T.V. large sizes mold, mold processing, and so on.
They are formerly known as Trading Metal Industry Co., Ltd. Kunshan is proud to say that its production and management team are trained and instructed by a well-known mold company in Japan.
With their latest technology, the company can produce large production resources with test die punching from 80T to 400T.
Location: Guangzhou, Guangdong
Company type: Manufacturer
Year founded: 2006
Main products/ services: Stamping die mold, precise die casting mold, fixture, inspection tool, mold
For years in the industry, Wanquanhe acquired various processing equipment sets for precision stamping mold. They have production workshops for all kinds of stamping products, including motors, automobiles, engines, die-casting, and home appliances' components.
Their company has passed ISO 9001:2015 and IATF 16949:2016 certification. Its target market is from Europe and local companies.
Location: Dongguan, Guangdong
Company type: Manufacturer, exporter
Year founded: 2004
Main products/ services: Mold part, stamping mold
Xinrui, just like the rest, offers O.E.M. and ODM services to fully maximize the goal of delivering custom specifications for the clients. The company can offer customized engineering specialized in materials, namely tungsten carbide, steel, aluminum, bronze, and brass.
Xinrui's main customer at the moment for mold parts is the Netherlands but not limited to them. They also do the job globally, specifically in Europe, Southeast Asia, and the Middle East countries.
Location: Shenzhen, Guangdong
Company type: Manufacturer, trading company
Year founded: 2008
Main products/ services: Mold, sheet metal fabrication parts, stamping parts, C.N.C. machining parts
This company may be one of the newest in the industry. Still, they already built their reputation in producing stamping mold by companies like Motorola of Malaysia and Honeywell of Hong Kong S.A.R.
Chenfengyuan is ISO 9001:2015 certified and can deliver products in 15 days, both peak and off-season. What is also good with them is that they adhere to sustainable development and environmental protection.
To check out more of their products and policies, you may have a tour of the facility.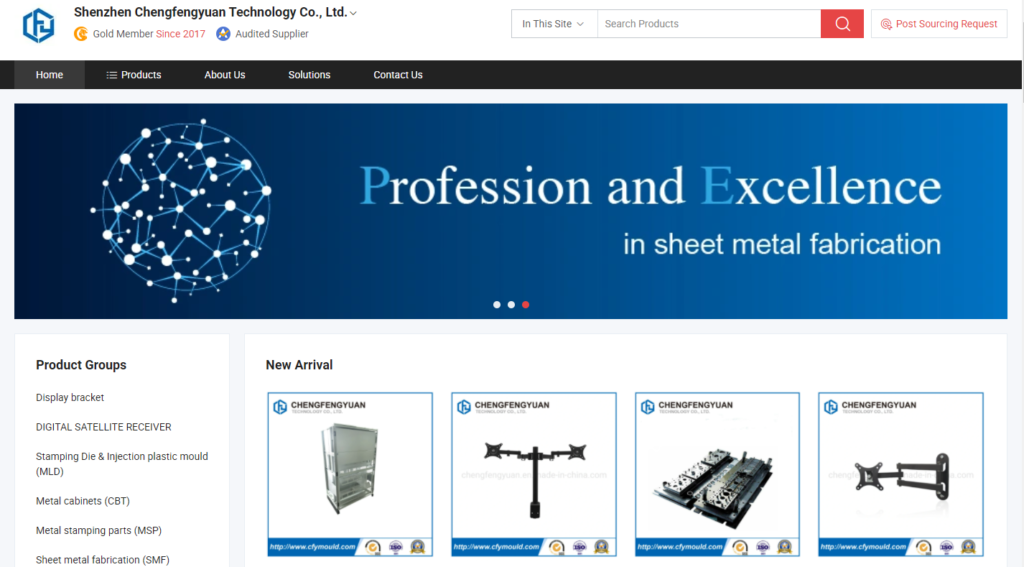 Location: Dongguan, Guangdong
Company type: Manufacturer
Year founded: 2000
Main products/ services: Mold parts, C.N.C. machine parts
Sinyi vows to be one of the leading manufacturers of precise die mold components and plastic mold components. They supply parts for the automobile, aerospace, medical, and electronic communications industries.
With over 20 years in the business, this company has grown in component production of higher domains, including optoelectronics, biotechnology, hot runner systems, and parts for the Industrial Robot.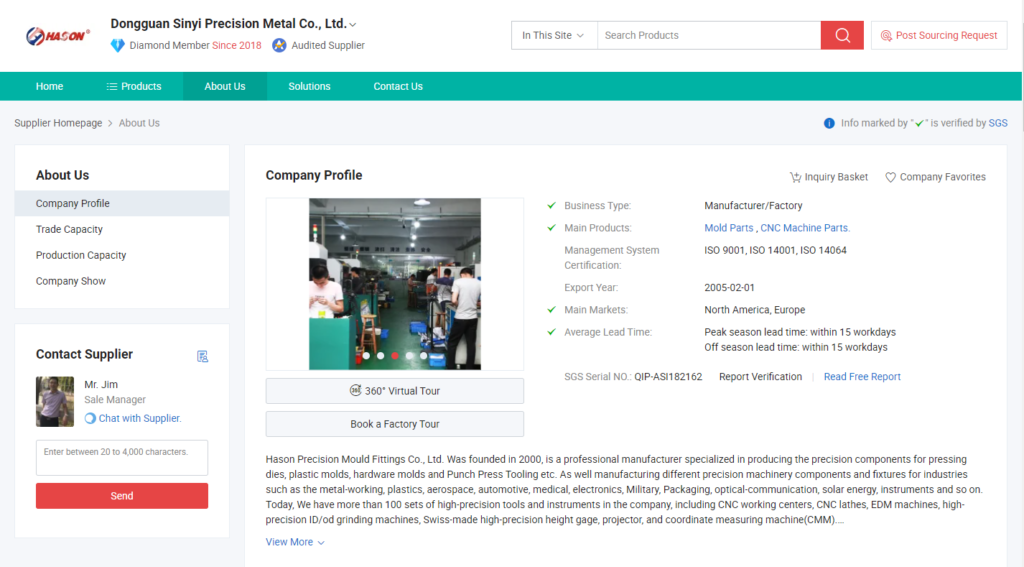 Location: Chuzhuo, Anhui
Company type: Manufacturer, trading company
Year founded: 2000
Main products/ services: Stamping mold, foaming mold, vacuum thermoforming mold, tooling equipment
Chuzhou Kechuang adheres to their principle of "equality and mutual benefits." They make sure to offer satisfying quality products to their clients. Mainly, they manufacture stamping molds for home appliances and the auto industry.
Local people primarily run this company but export throughout the world. Most of their customers' products are being supplied to India, Jordan, Germany, Russia, South Africa, Bangladesh, Iran, etc.
Final Thoughts
In any way possible, having a manufacturer that offers both metal stamping and stamping mold is an excellent advantage in your company. It can save your time and energy to give more space on other errands your company has to finish. You may view the websites of the top 10 stamping metal manufacturers in China with the list above.