Today, many manufacturers are considering building a metal stamping company because of the demand and the profit it can give entrepreneurs; because it is a good investment. Often, when someone puts up a metal stamping, not everyone gets the chance to have their stamping mold, which is vital for production.
However, most metal stamping manufacturers in the U.K. have an in-house stamping mold facility offering a one stop fabrication for customers that need just one partner throughout the process. The file below will show you the top stamping mold provider in the U.K. with their corresponding market sectors.
Location: Guangdong, China
Company type: Manufacturing
Year founded: 2012
Main product: Stamping mold, custom metal stamping, terminals stamping, progressive stamping, precision metal stamping, microstamping, and deep drawn stamping
Gold Precision is a leading customized metal stamping manufacturer with its stamping mold facility based in China. We make sure to deliver precision, higher efficiency, and impressive cost advantages products in a speedy four (4) week lead time from prototyping to finished product.
With Gold Precision, we can produce 240 sets of stamping molds and 600 million pieces of metal stamping parts annually. We provide parts and components for aerospace, NEV, industrial automation, medical, communications, consumer electronics, and automotive.
To know more about our product and services, contact us today.
Location: Bristol, UK
Company type: Manufacturing
Year founded: (Established in 1923)
Main products/ services: Stamping, molding, die casting, CNC machining, hot & cold forging, prototyping, and tooling
Rencol Manufacturing offers a wide range of custom manufacturing services globally, including metal stamping, die casting, and metal injection molding. They have a total of three teams located in the UK, the US, and China. The company can assist their clients from optimizing design ideas to prototyping, tooling, mass production, and logistics.
Rencol can produce 10,000 pieces as a minimum order quantity for stamping mold with a lead time of 10 to 12 weeks after the sample approval. These pieces can be small to medium-sized components with materials from steel, stainless steel, or aluminum.
This company not only has its own metal stamping facilities but also holds its stamping mold.
Location: Kingswindford, UK
Company type: Manufacturing
Year founded: 1947
Main products/ services: Metal stamping, molding, design/CAD services, tooling, technical cleaning, finishing, die-cast stamping
Clamason Industries is a full-service manufacturer with metal stamping and stamping mold applications. The company works with industries such as automotive, industrial, eco-tech, and medical fields. They are ISO 9001:2015 certified companies with both their UK and Slovakia manufacturing facilities.
This company has the capability of 100T to 300T presses with their advanced technologies and skilled technicians. Clamason gives quality products from designing, tooling, finishing, complementary services to supply chain and logistics needs.
Location: Birmingham, UK
Company type: Manufacturing
Year founded: (Established 1915)
Main products/ services: Metal stamping, stamping die, molds, and injection mold
Bloxwich is a metal pressing manufacturer that holds different services. Mostly, its clients and partners are from the automotive and white goods industries. All their metal works are supported by SolidWorks Professional CAD, SolidWorks Composer, SolidWorks Visualize software, and an HP 3D printer.
For decades, they have already built a partnership with an extensive network of suppliers to help their customers get the overall preferences. To know more about Bloxwich, click on the link.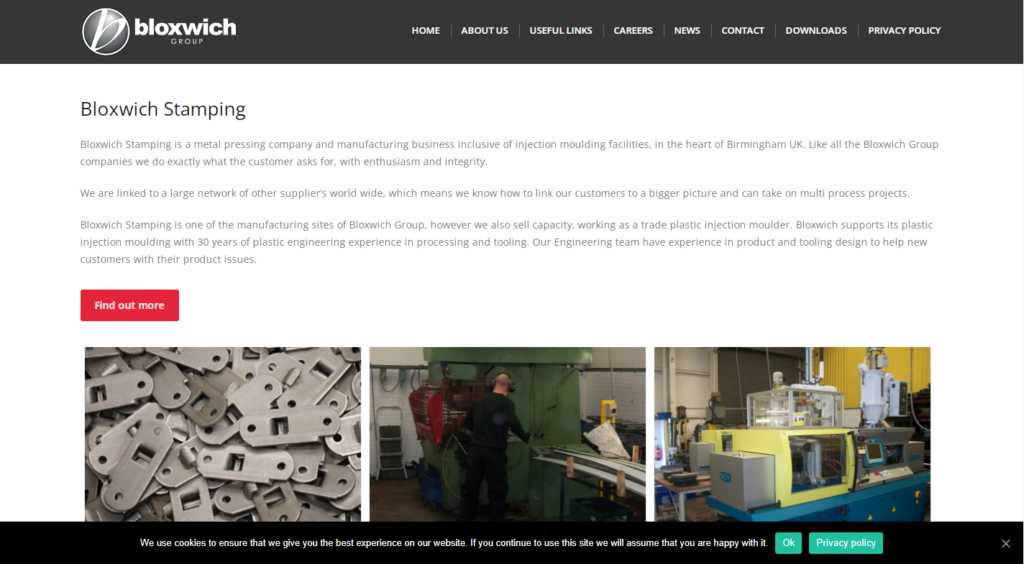 Location: Northants, UK
Company type: Manufacturing
Year founded: 1996
Main products/ services: Precision stamps, dies, pattern plates, molds, turning and grinding
Today, Chalco Stamp and Die remain traditional with their work in the industry; they hardly use automated solutions, making it for small production runs only. Most of the companies they serve are from high end manufacturers in automotive, retail, and heritage brands. The company often works with materials like aluminum and copper.
So, if you are looking for traditional yet precise stamping needs, you can consider Chalco in your checklist
Location: Barnstaple, UK
Company type: Manufacturing
Year founded: 1973
Main products/ services: Press tools, mold tools, molding, laser welding, precision machining, and designing
ND Precision Products is one of the UK's leading mold and stamping tools manufacturers- serving industries including electronics, medical, automotive, aerospace, and oil & gas companies. They are known for precise and high quality tooling with ISO 9001:2015 certification on their standard operations.
Until today, NPP continuously invested in the latest machines to always stand as a fully self-sufficient manufacturing site producing tools and components for various industries worldwide.
Location: Kingston, UK
Company type: Manufacturer
Year founded: 1965
Main products/ services: Metal stamping, sheet metal fabrication, CNC cutting, punching folding, welding, laser cutting, plating, and fabrication machining
For over 40 years of dedicated service in the metal stamping industry, Adnor has grasped how to keep customers satisfied and create quality products. The company can guide clients from conception to manufacturing bulk products. Also, they offer competitive prices with speedy deliverable production time.
With their experience in using stainless steel, mild steel, and aluminum materials, Adnor is working for different market sectors, including machine manufacture, food processing, transportation, furniture, shop fitting, and lighting.
We can say that this particular company doesn't just collaborate with the known industries, unlike the previous ones. If you are somewhere in their target market, you might as well consider them too.
Location: Redditch, Worcestershire, UK
Company type: Manufacturing
Year founded: 1996
Main products/ services: Stamping mold, tooling and design, assembly, springs, multiforms, and wire forms
Protaform is a manufacturer and supplier of pressed metal parts, moldings, and other components. Their topmost priority is to assist clients in every manufacturing stage and to produce quality assured services in the industries they work with- defense, automotive industries, and others.
Moreover, having an ISO 9001:2015 accreditation, Protaform obtains quality approval from many leading national companies, especially the UK Ministry of Defence. They are proud to say that the company can facilitate high quality design, manufacture, and maintenance of precision tools with their in-house tooling operations.
As for their presswork, Protaform manufactures metal components both in ferrous and non-ferrous materials.
Location: Bournemouth, Dorset, UK
Company type: Manufacturing
Year founded: 1960
Main products/ services: Metal stamping/pressing, stamping mold, molding, injection molding, injection blow molding, and extrusion blow molding
HCP Packaging is one of the leading manufacturing companies for the design, development, and production of beauty packaging of cosmetics, skincare, and fragrance products. Their innovative technologies allow them to produce complex and accurate functioning parts.
The company's metal pressing operation is based on forming aluminum components by the deep impact extrusion technique. This technique and the use of aluminum are highly recommended for their market sector in creating a luxurious and smooth surface finish via a secondary anodizing process.
Meanwhile, HCP's ability to stamp mold can create both narrow and wide-mouthed containers, thin-wall section bottles and tottles, and many more.
Location: County Durham, UK
Company type: Manufacturing
Year founded: 2019
Main products/ services: Toolmaking, hybrid tooling, stamping mold, and injection molding
Mold Systems (Europe) Ltd. is a technical tooling solution provider and a contract manufacturer in the medical and pharmaceutical laboratory, caps & closures, packaging, and automotive sectors.
This company has a 50,000 ft2 facility in the United Kingdom that offers CAD/CAM engineering and design operations through mold polishing, assembly, and in-House inspection, all under one plant.
With over 40 years of experience, they can handle small to large volumes of production runs and can offer presses of 100 to 450 tons.
Final Thoughts
When looking for a metal stamping manufacturer, it is also a number one tick-off the bucket list if the provider has a stamping mold. First, it can save you time looking for another manufacturer. Second, it is cost-efficient. Lastly, more often than not, when a manufacturer has all the operations you need, it is more likely to give you more precise, high quality, and standard services and products.