Mexico has a large market, supplying all countries in North America.
Compared to the countries in its region, it has some of the best stampings die companies.
I compiled a list of the top 10 stamping die companies in Mexico based on thorough research.
Being in the industry for many years now, I'm experienced enough to find the best.
There are a few factors that will determine which one ends up on the list.
Location: Dongguan, China
Company type: Manufacturer
Year founded: 2012
Main product: Stamping molds, terminal stamping, progressive stamping, precision metal stamping, micro-stamping, deep draw stamping
MicPro Precision is a leading metal stamping manufacturer and in-house fabricator of stamping molds. We can assist you with all your needs, from research & development to engineering, to stamping, to tooling assembly, to production, to inspection, to packing, and delivery. We ensure our clients are supplied with parts of the highest quality and precision—components that best meet their needs.
We fabricate parts for aerospace, industrial automation, medical, communications, consumer electronics, and automotive applications. Our company produces twenty sets of stamping molds and 50 million metal stamped parts each month with lead times of three to four weeks.
To learn more about our products and services, please visit our website. We'll be happy to discuss your needs.
Location: Jalisco, Mexico
Company type: Manufacturer
Year founded: 1989
Main products/ services: Metal stamping, tooling, die casting, progressive dies, and mold
Mega Industrial Stampings is a metal stamping manufacturer and also provides design and tooling services. They provide parts in low to high volumes. One of their first products was stamped automotive parts for their first client, ZF Sachs, a shock absorber manufacturer.
By 2012, they had a plant of 2,400 square meters. Currently, Mega Industrial Stampings' average volume of die-cut pieces stands at 3.5 million pieces each month. Eighty percent of which supplies the automotive industry. Their manufacturing processes use progressive, compact, and step die.
Additional clients include AAM, Emerson, Hella, SKF, and more.
Location: Santa Rosa Jauregui, Qro., Mexico
Company type: Manufacturer
Year founded: 2000
Main products/ services: Metal stamping, tool and die, CNC machining, wire cutting, and prototyping
XL Tech manufactures automotive stamping dies & production stampings, with all tools designed in-house using CAC/ CAD machines equipped with CNC machines.
The company facilitates high production volumes of quality parts with presses ranging from 110 to 1,000T and feeder thicknesses of 0.3 to 6.0 mm. They typically work with automotive companies like Martinrea, Magna, Michelin, Caparo, Lamtec Mexico, etc.
Location: Cerrada la Estacada Qro., Mexico
Company type: Manufacturer
Year founded: 2009
Main products/ services: Metal stamping, tooling, stamping mold, welding, progressive stamping, finishing, plating, and tool & die
NASG Mexico, L.L.C. manufactures stamped parts for ride controls, brackets, exhaust, vibration, and other control parts for the automotive industries, but they also accept general stamping needs for various other industries.
This company has 90 pieces of equipment with capabilities from 45 to 1,650T of pressure. They ensure that they have the most up-to-date technologies for the metal parts and automotive industries.
NASG Mexico's equipment lineup is highlighted by its Three-Axis Servo Drive Transfer System, CAD-CAM software, precision production grinders, and more.
Location: Santiago de Querétaro, Qro., Mexico
Company type: Manufacturer
Year founded: 1952
Main products/ services: Metal stamping, die designing, engineering, welding, and assembly solutions
Hatch Stampings is a provider of precision metal stampings and assemblies for the automotive industry. They own thirteen manufacturing and technical facilities across Michigan, Tennessee, Mexico, and China. Hatch Stampings has forty-two stamping lines, thirty-nine welding cells, thirty-eight robots, and three e-coat lines.
With these advanced technologies, Hatch Stamping can assist engineering and die design clients through various manufacturing processes. They are ISO 14001/IATF 16949 certified and a Ford Q1 partner.
Location: Aguascalientes, Mexico
Company type: Manufacturer
Year founded: 1996
Main products/ services: Metal stamping, stamping die, machining, prototyping, designing
Primarily, A&I Metal Stamping company produces parts and components for the automotive industry, following strict quality compliance guidelines based on ISO 9001-2015 and IATF 16949. The company can help customers with design, stamping, and maintenance.
Their stamping equipment supports low to medium production volumes with their 35 to 450T presses. A&I mainly uses steel in its production.
Location: San Luis Potosi, Mexico
Company type: Manufacturer
Year founded: 1981
Main products/ services: Metal stamping, metal fabrication, tool and die, design and engineering, welding, prototyping, and progressive stamping
With an in-house tool and die shop, Waukesha can deliver products to any industry. They are a leading provider of precision sheet metal stamping, fabrication, and component assembly.
This company works with short-run, and longer high-volume production runs. They employ presses capable of 1.5 to 660T, with speeds of up to 400 strokes per minute. Bed sizes range up to 145 inches.
Waukesha is readily available to help customers from design conception to product completion. Aside from the Mexico plant, they also have two facilities in Wisconsin.
Location: Tijuana, Mexico
Company type: Manufacturer
Year founded: 1995
Main products/ services: Metal stamping, progressive stamping, injection molding, tooling and molding, prototyping, and assembly
AOI Industries Mexico serves the metal stamping needs of various companies, including power & energy, automotive, technology, and other commercial industries. Primarily, they use aluminum, but AOI also works with bronze, stainless steel, and pre-plated materials.
There is more to learn on their website. AOI assists customers with precision and accuracy.
Location: El Paraiso, Qro., Mexico
Company type: Manufacturer
Year founded: 1958
Main products/ services: Metal stamping, wire forms, and assembly
Since 1958, Keats has been one of the leading precision metal stamping companies in Mexico. They also have facilities in manufacturing facilities in Illinois and Texas. They serve the automotive, electrical distribution, medical, electronics, home automation, security, appliance, and agricultural sectors.
Their prototyping services allow Keats to facilitate large orders of up to 50 million parts. They also have 142 metal stamping and wire forming machines, using four-slide, multi-slide, and stamping press technologies, operating five days a week, 24 hours per day.
Check their link for more information.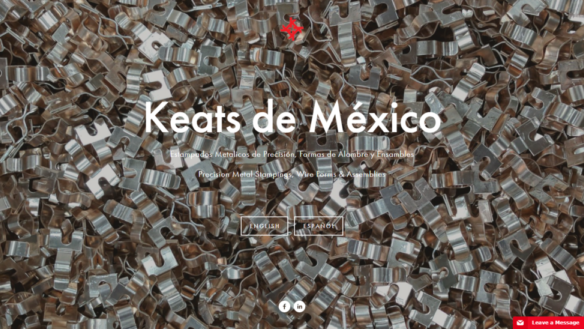 Location: Ensenada, Mexico
Company type: Manufacturer
Year founded:
Main products/ services: Metal stamping, molding, tooling, and machining
ANT Precision Mexico serves many industries and they have a global presence with three additional facilities in Taiwan, Tunisia, and China.
This company provides quality products using stamping machines ranging from 30 to 110T and fully automated optical inspection systems. ANT also provides in-house molding capabilities, using hydraulic and electric presses ranging from 50 to 300T.
Final Thoughts
Thorough vetting of prospective stamping mold manufacturers is vital. It is important that you get the specifications and qualifications you will require for your product. This article is written to help you make comparisons and choose the one suitable for you. Click on the manufacturers' links to learn more.