One of the major industries in the US is the metal stamping industry. In 2020, metal stamping companies of over 1,500 generated an average sales of 25 billion dollars. Yes, it is huge because almost everything around us is made or part of stamped metals of various products.
As we have mentioned above, there are abundant manufacturers around us. This article will sum up the top 10 lists that are both quality-wise, cost-efficient, precise, and customer-driven metal stamping manufacturers. So, here they are.
Location: Dongguan, China
Company type: Manufacturer
Year founded: 2012
Main services: Precision metal stamping, progressive stamping, deep drawn stamping, compound die, single die, microstamping, terminal stamping, tooling, and more
Gold Precision is a booming metal stamping industry in today's era worldwide with a team of experts in assisting you with your needs. We are significantly known for high-quality stamped parts and customizable components, ensuring that all your requirements are met.
What's nice about us is we offer in-house manufacturing at competitive rates to various industries, including automotive, industrial automation, aerospace, electronics, medical equipment, new energy vehicles, and communication.
Our company does not just stop from metal stamping, but we also provide quality services from beginning to the end of your stamping process- research and development, designing, tooling, stamping, inspection, packaging, delivery, and so on.
You may want to have a quote and be amazed by our metal stamping services and products.
Location: Illinois
Company type: Custom manufacturer
Year founded: 1941
Main services: Metal stamping, sheet metal fabrication, laser cutting
This company has been in the industry for over eight (8) decades, and they are also ISO 9001:2015 certified- keeping it maintained with their low-cost tooling and quality services and standards. They consider specialization in producing parts for the medical industry.
HPL promises to ship products within 30 days of completion. One thing that's good with them is they maintain all tools and engineering fixtures indefinitely, which enables their company to fix and replace a customer's components easily and at no cost.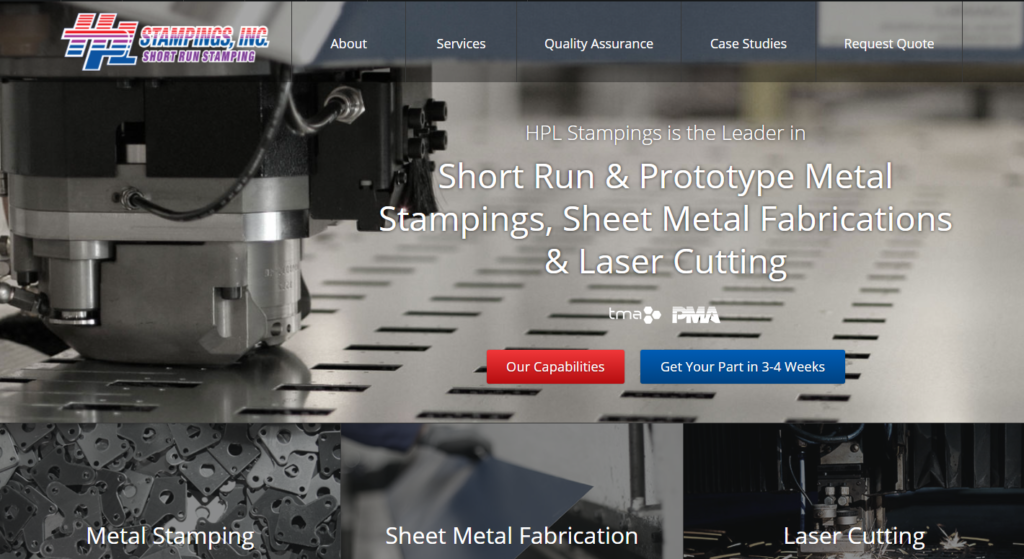 Location: Minnesota
Company type: Manufacturer
Year founded: 1979
Main services: Stamping, bending, welding, forming, assembly, boring, CNC turning, CNC machining, CNC milling, prototyping, and laser cutting
BTD Manufacturing mainly serves electronic, industrial, transportation, consumer products, automotive, etc. This company operates globally with over 40 years of stamping metals.
They offer short and long-run stampings mostly with their customers, including the world's top brands such as Yamaha, Carrier, Honda, GE, and many more. It is a no-brainer thing if you opt to engage with them and help you with your stamping needs.
Location: Illinois
Company type: Manufacturer
Year founded: 1966
Main services: Stamping, R&D, powder coating, laser coating, heat treating, etc
Whether you are in the automotive, aerospace, appliance, agriculture, transportation, medical, consumer products, or construction industry, Integrity Manufacturing is not just a metal stamping company but also your go-to manufacturer for all the services you need from top to bottom.
They provide tooling, material sourcing, stamping, finishing, assembly, packaging, and global shipping. They acquire a team who can significantly assist you with research and development that best suits your preference.
It is also great to know that Integrity Manufacturing is a women-owned company.
Location: Vermont
Company type: Manufacturer
Year founded: 2003
Main services: Compound blanking, forming and piercing, progressive die and deep drawn stamping, and precision tooling
Mardek is a global plastic and metal stamping manufacturer. Their main headquarter is in Vermont, USA, while they also have offices in Asia. With quality services and products and a short lead time, they still offer an affordable cost.
Aside from stamping, this manufacturer can also assist you with designing and engineering support from their skilled team. Mardek is proud to be ISO 9001, ISO/TS 16949, and IATF 16949 certified in meeting client's requirements.
Location: Illinois
Company type: Custom manufacturer
Year founded: 1958
Main services: Precision metal stamping
Keats serves the aerospace, agricultural, appliance, automotive, communication, construction, electronic, furniture, medical and military industries. Alongside metal stamping, they also offer custom products such as brackets, bushings, clips, terminals, and shields.
Using their EDM and CNC machines, Keats can maintain a tight tolerance of up to 0.0005″ throughout the entire metal stamping process. They have three (3) facilities- Keats Manufacturing in Illinois, Keats Southwest in Texas, and Keats De Mexico.
This company is one of the well-known metal stamping manufacturers in the US. It is also an advantage if you have access to their three available locations for your stamping needs.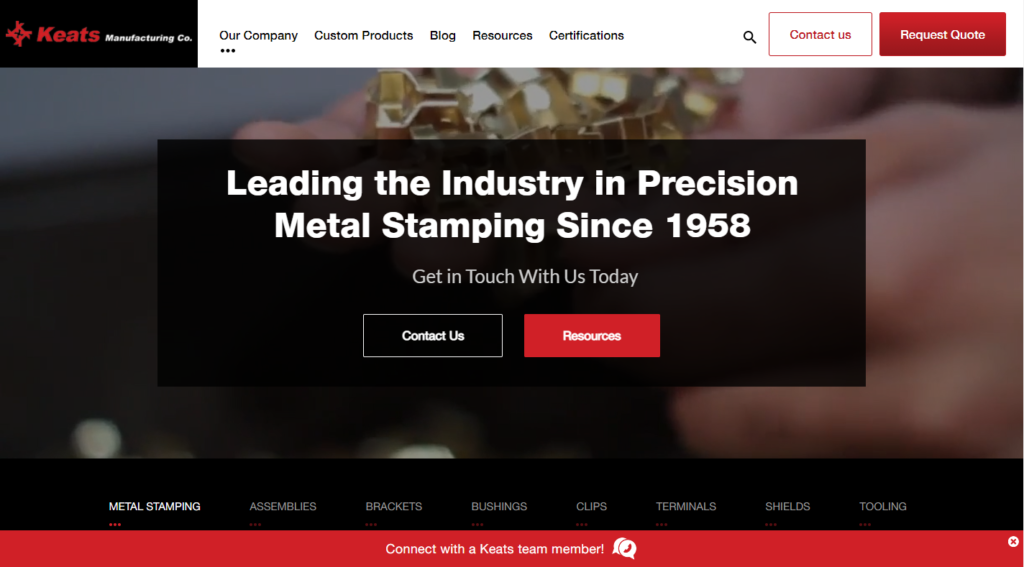 Location: Wisconsin
Company type: Manufacturer
Year founded: 1976
Main services: Metal stamping, fabrication, finishing, tool & die steel slitting, and CNC machining
Matenaer is not just a stamped metal supplier but also a one-stop-shop manufacturer. Their services extend from research and design to purchase and delivery through post-delivery assistance.
They can maintain material thicknesses ranging from .002″ to .687″ and make 30+ presses from 4T to 800T. For compound and progressive dies, they provide low tool costs with material draws up to 3″.
This manufacturer is ISO 9001 certified. Certainly, Matenaer's decade of experience in metal stamping will provide you with cost savings on your stamping needs.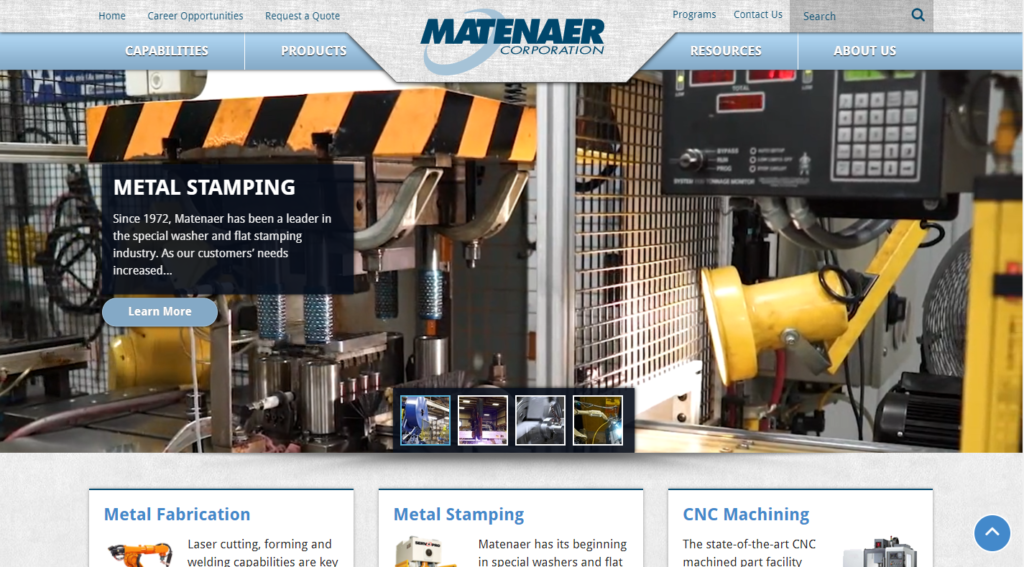 Location: Minneapolis
Company type: Manufacturer
Year founded: 1919
Main services: Precision metal stamping, custom stamping, and other
Like any other metal stamping manufacturers, Boker's has more to offer than just metal stamping such as washer, spacer, and shim products; they provide stamped parts to different industries.
This company is capable of stamping metals with material thicknesses from .005″ to .190″ and deep drawings of 3″ deep and 8″ in diameter. It covers a range of sizes up to 12″ x 12″ flat. Boker's is proud to be a women-owned business.
Location: Michigan
Company type: Manufacturer
Year founded: 1996
Main services: Metal stamping, assembly, tool & die
Thai Summit Corporation is one of the leading metal stamping manufacturers in the US for automobile and automotive parts and components. Some of their top clients are Volvo, Chrysler, Ford, and Tesla.
They practice the "Total Productive Maintenance" (TPM) methods to maximize the amount of up-time of their presses, saving both time and expense. Mostly, the materials used for stamping are steel (galvanized, cold-rolled, high strength, stainless), aluminum and tailor welded materials.
If you are within the automotive industry, you may want to consider the Thai Summit for reference.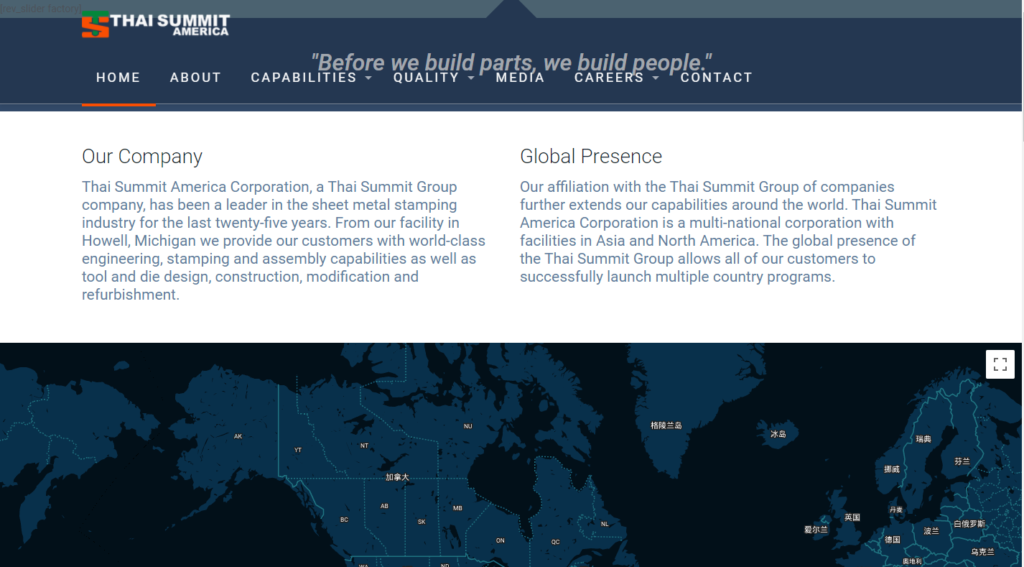 Location: Michigan
Company type: Manufacturer
Year founded: 1948
Main services: Metal stamping and assemblies
Pridgeon and Clay has over 100 stamping presses worldwide, ranging from 40 to 1500 tons, with certifications of ISO 14001, IATF 16949, AS 9100D standards. They provide parts and components to automotive, marine, alternative, hardware & appliance industries.
To meet their customers' requirements, they provide engineering, designing, A2LA-accredited testing, and manufacturing services globally. They also have offices in North America, Europe, and China.
Final Thoughts
Whether you are a small or huge business, knowing different suppliers, what they offer, and their characteristics pays off. By this, you will have a great idea of which one perfectly fits your preferences- such as your budget, location, skillset, quality, and most of all, reliability. Check out the top 10 metal stamping manufacturers in the US through the links above.