The global copper production from mining amounted to about 21 million metric tons in 2021, a marginal increase from the previous year. Projections speculate a stark rise in copper production in the years coming, perhaps to accommodate the ever-increasing worldwide copper demands. Based on my experience, As a metal stamping supplier and stamping mold manufacturer, we face many kinds of copper every day. So, you may want to know which companies produce the most copper in the world? Today, we made a detailed list to introduce them to you.
List of top 10 copper mining companies in the world
| | | | | |
| --- | --- | --- | --- | --- |
| Rank | Company Name | Metric tons – 2021 | Headquarters | Year founded |
| 1 | CODELCO | 1.73 | Santiago, Chile | 1955 |
| 2 | BHP Group | 1.70 | Melbourne, Australia | 1885 |
| 3 | Glencore | 1.26 | Baar, Switzerland | 1976 |
| 4 | Freeport-McMoRan | 1.18 | Texas, USA | 1912 |
| 5 | Southern Copper | 1.02 | Mexico, Mexico | 1952 |
| 6 | First Quantum Minerals | 0.7 | Vancouver, Canada | 1983 |
| 7 | KGHM Polska Miedz | 0.54 | Lubin, Poland | 1961 |
| 8 | Antofagasta | 0.49 | London, UK | 1888 |
| 9 | Rio Tinto | 0.48 | Melbourne, Australia | 1873 |
| 10 | Anglo American | 0.45 | London, UK | 1917 |
Location: Santiago, Chile
Company type: State-owned enterprise
Year founded: 1955
Annual copper production 2021: 1.73 million tons
Products: Cathode copper, Molybdenum, Rhenium, tiny amounts of Gold and Silver
Codelco holds one of the largest copper reserves globally and is one of the oldest copper mining companies. It's state-owned and consists of a governing board appointed by the republic president. Codelco is the world's largest copper mining company, producing over 1.73 million tons of copper on an annual average, about 11 percent of the world's total copper production.
The Company has five principal operating divisions: the Codelco Norte, Ventanas, Andina, Salvador and El Teniente. These divisions have research, exploration, development, and acquisition departments, making them fully functional and sustainable. The company also has a marketing presence out of Chile steered by its collaboration with the Ecuadorian government. It's also starting to expand the business and conduct explorations in Southeast Asia.
Codelco is seemingly a 'jack-of-all-trades' company since it diversifies its production from copper to smaller amounts of Molybdenum, rhenium, gold, and silver. It's also employed over 17,880 people and had a revenue of US$21 billion in 2021. That keeps it the high-income and lucrative companies among the copper-producing enterprises.
Location: Melbourne, Victoria, Australia
Company type: public company
Products: Copper, Nickel, Potash, Metallurgical coal, Iron ore
Annual copper production 2021: 1.70 million tons
Year founded: 1885, but changed to BHP Billiton in 2001
BHP is an Australian mining company tracing its origins in 1885 and closely rivals Codelco. In 2017, BHP surpassed Coldeco's production and net revenue to become the world's leading but lost that spot a year after its production plunged. On average, this public company produced about 1.7 million tons of copper in 2021, giving Coldeco a run for its money in being the world's elite.
A board of directors manages the company and runs its affairs, from exploration, extraction, and production. The board has a Chair as the Chief Director and sometimes the company's CEO. As a world-leading resource company, BHP stretches its reach across the globe, exporting products to over twenty countries. It has four processing hubs and five global mining divisions at Mt Arthur, Bowen Basin, Western Australia, Nickel West, and Olympic Dam.
Apart from producing copper, BHP also mines petroleum and has a designated unit with ongoing projects worldwide. The company also produces Nickel, Iron Ore, Metallurgical ore, and potash. However, it's a mainstay copper producer in Australia and globally, selling material resources in over twenty countries.
Location: Baar, Switzerland
Company type: Public Limited Company
Products: Copper, ferroalloys, Nickel, Zinc, Cobalt
Annual copper production 2021: 1.26 million tones
Year founded: 1976
Glencore reported 1.26 million copper sales in 2021, reflecting its annual production in the past decade. It's among the world's leading copper producers operating locally and across the globe. This company usually mines and processes copper across Africa, South America, and Australia. It was founded in 1976 and has surged through the competition to dine with the elite in this niche over the years.
The company is administered by an eight-person board of directors, including seven non-executives. It's responsible for acquisition and disposals, strategic direction, financial performance, capital expenditure, budget, and planning. Technically, these directors exercise their authority through committees that vastly approve the company's projects.
Glencore is also a leading cobalt producer globally and boasts of numerous divisions across Canada, Europe, and Australia, racking up an annual average of over 31,300 million tons. Besides, it also adds zinc, nickel, and ferroalloys, making it an all-around company. It's employed around 135,500 people and earned a 2021 annual revenue of US$203.75 billion.
Location: Freeport, Texas
Company type: Public mining company
Products: Copper, Gold, Molybdenum
Annual copper production 2021: 1.18
Year founded: 1912
Freeport-McMoRan follows closely with an average production of 1.18 million tons as of 2021. This public mining company was founded in 1912 in Freeport, Texas, and has been consistently operational since. It has numerous divisions, including South American mining, North American copper mines, Indonesia mining, and Molybdenum mines. It also has a handful of portfolio assets across the Americas and Indonesia, with the biggest one being the Grasberg mine.

As a public company, Freeport-McMoRan consists of a chaired board of directors charged with spearheading exploration, extraction, and production. However, it runs as a sole entity in Indonesia, having a different president but overseen by the pole chair.
Besides being a renowned copper producer, Freeport-McMoRan also mines gold and tiny amounts of Molybdenum across its assets. The board recently agreed to step up its gold production and is making significant investments in the Grasberg mine. That'll help increase its yearly revenues, racking up more than 2021's US$22.845 billion and employing over the present 17,500 people.
Location: Mexico City, Mexico
Company type: Subsidiary Mining Corporation
Year founded: 1952
Annual copper production 2021: 1 million tons
Products: Copper cathodes, Silver, Molybdenum, Zinc
Southern Copper is a subsidiary of Grupo Mexico and ranks fifth among the copper-producing elites. It recorded a marginal increase in copper production from the previous year in 2020, which stacked at 1 million tons. The company has assets including the Cuajone and Toquepala mines in Peru, and the Buena Vista del Cobre and La Caridad mines in Mexico.
As a subsidiary of Grupo Mexico, it was incorporated in 1995 and had a management board overseen by a president and chair. This board has the mandate to flag off explorations, spearhead extractions, and supervise the production processes while guaranteeing sustainable practices.
And despite being a majorly copper producer, Southern copper still refines significant amounts of lead, gold, silver, zinc, and Molybdenum. The company recently invigorated lead and silver production across its mines, and hopefully, the gold and zinc will follow suit. Currently, southern copper has 12,000 employees and a 2021 revenue of $10.93 billion.
Location: Vancouver, Canada
Company type: Public mining company
Products:
Annual copper production 2021: 0.7 million tons
Year founded: 1983
Formerly known as the First Quantum VenturesZeal Capital Xenium Resources, this company was founded in 1983 and was incorporated in 2014. This public mining company produced 0.7 tons of copper across its mines in the 2020 financial year, accounting for 80% of its aggregate production. It also has seven mining divisions, with the Sentinel, Cobre Panama, and the Zambian Kansanshi being the most significant.
The company's leadership hierarchy is distinct and perfectly structured with well-distributed management and operation roles. It consists of a chaired board with members tasked to commission explorations, oversee extraction, and manage production. Besides, this board has an obligation to manage the finances and ensure sustainable production.
First Quantum Minerals also produces gold, cobalt, zinc, and nickel and exports majorly to china, the Americas, and Africa. Its revenue in 2021 stacked at US$7.2 billion, and it employs over 20,000 people across its sites. It's also the largest mining company in Canada, sourcing about 40% of its revenue from China.
Location: Lubin, Poland
Company type: Joint-stock company
Annual copper production 2021: 0.54 million tons
Products: Copper (primarily)
Year founded: 1961
KGHM Polska Miedz was first established in 1961 and has become one of Poland's copper-producing companies. The company's mining projects spread across North and South America and some parts of Europe, including Rudna in Poland and Sierra Gorda in Chile. In 2020, the company produced 0.54 million tons of copper and 0.2 tons of silver, a marginal increase from the previous financial year.
KGHM Polska Miedz has been a joint-stock company since 1991, and its stock is listed on the Warsaw Stock Exchange. It has a distinct management board and a supervisory board that works collaboratively to undertake explorations, extraction, refining, and production.
Far from being a well-recognized copper producer in Poland and globally, KGHM Polska Miedz also extracts and refines other precious metals, Molybdenum, silver, and rhenium. In 2021, the company made about US$6.7 billion and employed over 10,000 people across the three continents.
Location: London, United Kingdom
Company type: Public Limited Company
Products: Copper, Molybdenum, gold, and silver
Annual copper production 2021: 0.49 million tones
Year founded: 1888
Antofagasta PLC began as the Chili and Bolivia Railway limited company in 1888, just about the year of incorporation in London. It's currently a leading copper production company in the United Kingdom and one of the renowned elites worldwide. The company produced about 0.49 million tons of copper in 2021, giving it the number eight spot on the list of high producers.
The company operates through two divisions, including transport and mining. The transport division provides rail and truck activities to own operations in the Antofagasta region. Besides, its mining assets are located in La Serena, Centinela, Santiago, and the Coquimbo region. The board of directors oversees the extraction, processing, and exploration.
Antofagasta PLC is also a favored producer of Molybdenum, gold, and silver. And besides being determined in mining and production, the company has invested a lot in sustainable practices and empowering local communities. As of 2021, the company had employed 23,248 people, as Forbes reports, and racking up revenues reaching US$5.1 billion.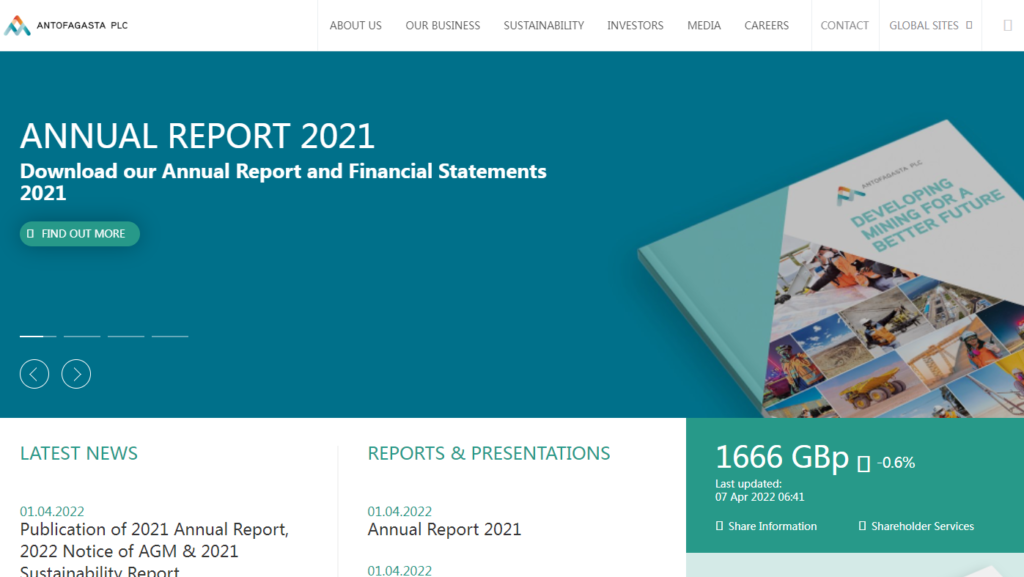 Location: Melbourne, Australia
Company type: Dual-listed mining company
Products: Copper, Diamonds, Molybdenum, Gold, Bauxite
Annual copper production 2021: 0.48 million tons
Year founded: 1873
Rio Tinto is a dual-listed company – traded on the Australian securities exchange and the London stock exchange. It has two headquarters but mainly bases in Australia. The company produced about 0.48 billion tons of copper, giving it the ninth spot in this article. Rio Tinto was founded in 1873 when a group of investors bought a mine complex from the government.
The company has a hierarchical management system comprising a board of directors who swiftly manage it. This board oversees the exploration, extraction, and production and ensures sustainability practices across its assets. However, their mining assets are joint ventures with other mining companies sharing a percentage of the ownership.
Besides mining and processing copper, Rio Tinto also produces a vast array of minerals, including Diamonds, Molybdenum, gold, Bauxiteand numerous others. The company currently employs over 45,000 people and racked in revenue of US$63.49 in 2021.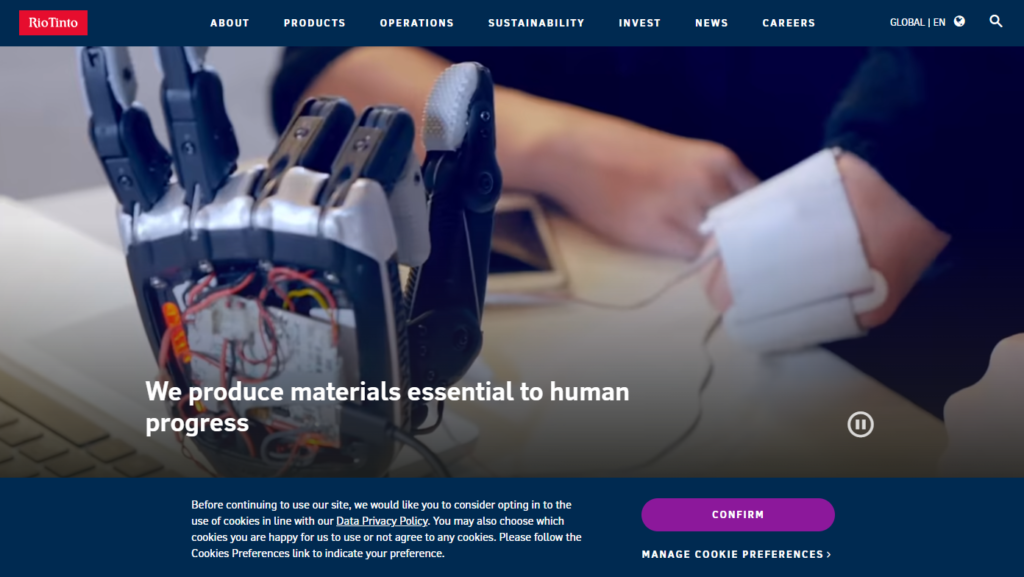 Location: London, United Kingdom
Company type: Public limited company
Products: Copper, Diamond, Thermal and Metallurgical coal, Nickel, Platinum
Annual copper production 2021: 0.45million tones
Year founded: 1917 – Anglo American Corp, 1999 – Anglo American PLC
Anglo American PLC is a public limited company headquartered in London, United Kingdom, founded in 1917 as a corporation in Johannesburg with an American financial bank backing. It later changed to Anglo American PLC in 1990 after fusing Minorca. The mining company is among the copper-producing elites, having racked up 0.48 million tons in 2021.
It currently employs over 20,000 people across its mining assets and processing stations. The company runs on strict sustainability principles, ensuring that the extraction, processing, and production processes don't harm adjacent communities. It's also a lucrative company on the books and had racked up revenues amounting to US$43.3 billion.
Conclusion
Copper has been an essential metal for machinery and electronics and has been demanded worldwide for some time now. That makes these companies grow and bulge in scale and revenues as they step up their production to suit demands. Hopefully, more companies will make the cut in the near future by invigorating copper production to make it in our future lists.