In 2019, according to a global survey made by Statista, the production value of metal stampings in Mexico amounted to approximately 15.3 billion Mexican pesos. This represented an increase of around 11 million Mexican pesos compared to the production value reported a year earlier.
These statistics only show how significant is the impact of the metal stamping industry not just in Mexico but also globally. With its booming industry, we must know the top reliable manufacturers we can depend on for our needs.
Below is the list of the top 10 metal stamping manufacturers in Mexico:
Location: Dongguan, China
Company type: Manufacturing
Year founded: 2012
Main products/ services: Metal stamping, custom metal stamping, terminals stamping, progressive stamping, precision metal stamping, microstamping, deep drawn stamping
Gold Precision is a leading metal stamping company that offers in-house, custom metal stamping and product manufacturing. We are capable of producing around 50 million pieces of stamping parts monthly. Our expert team of engineers can assist you with the entire hardware process, including design, prototyping, outsourcing, and manufacturing.
Gold Precision manufactures parts for the automation industry, automotive parts, consumer appliances, electronic and medical devices, NEV, and a lot more. We work with steel, stainless steel, copper, brass, nickel, aluminum, and specialty metals.
If you are looking for a reliable metal stamping partner, let's talk and have a quote with us today.
Location: El Carmen Hidalgo, Mexico
Company type: Manufacturing
Year founded: 1981
Main products/ services: Metal stamping, sheet metal stamping, jointing and welding, tooling, and prototyping
TIASA is already 40 years old in stamping metal parts for various automotive, electrical, agricultural, industrial, white line, furniture, and other industries. Most of their clients are Chrysler, Siemens, American Axle and Manufacturing, Tremec, among many others.
In metal stamping, TIASA has a capacity of 440 tons for progressive stamping and machining. They have in-house jointing, welding processes, and sheet metal processing, including laser cut, CNC machining, bending, punching, etc.
This company works with a wide range of stainless steel, copper, aluminum, and other specialty metals. Aside from all of these, TIASA has a m=metrology laboratory.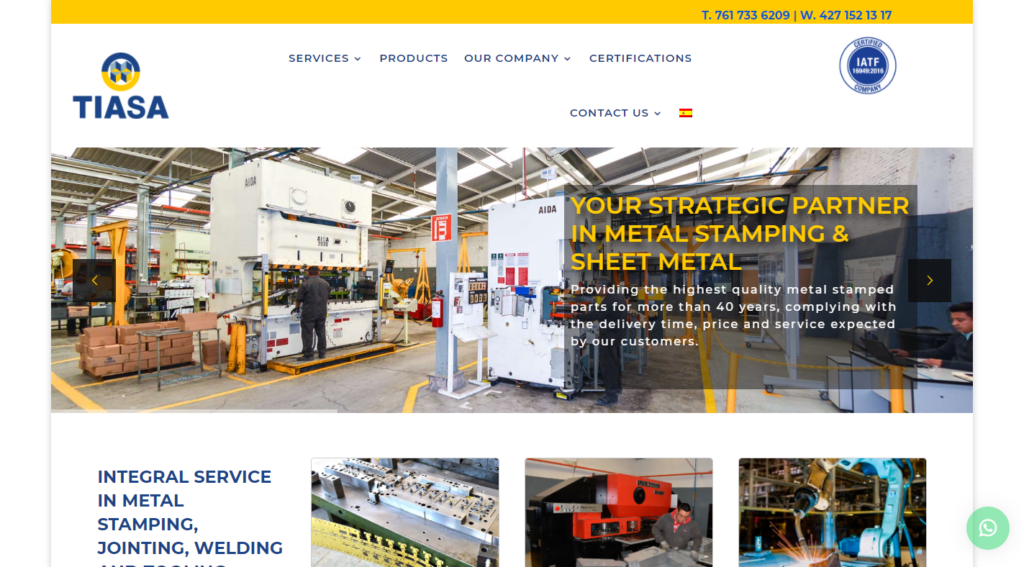 Location: Cuernavaca, Morelos, Mexico
Company type: Manufacturing
Year founded: 1969
Main products/ services: Sheet metal stamping, spot welding, tube bending, turning machining, wire forming, and injection molding
One of Mexico's leading automotive suppliers is Intran. Aside from catering to the automotive industry- tier, aftermarket, off-road, bus industry, and trucking, they also welcome agricultural, marine, and power sports industries.
Intran proudly presents that they are IATF 16949:2016 and ISO 9001:2015 certified. The company's high-precision metal stamping can press from 10 up to 350 tons, making all types and shapes of covers, flanges, and brackets.
In addition, they offer affordable and fast freight for their clients in the US and Canada.
Location: Queretaro, Mexico
Company type: Manufacturing
Year founded: 1998
Main products/ services: Metal stamping, die-cut, injection molding, and assemblies
Like Intran, the SMEX company is greatly into automotive parts. They have a sister company in Japan named Shimizu Kogyo. Hence, most of the equipment and tooling they used for production are designed and produced in Japan.
They provide numerous products with presses' capability of 45 Tons to 250 Tons. SMEX services from prototyping to production include preventive maintenance, major maintenance, on-time delivery, and inventory with 13 maintenance technicians and 11 quality inspectors.
Location: Nuevo Leon, Mexico
Company type: Manufacturing
Year founded: 1999
Main products/ services: Metal stamping, machining, engineering, welding, washing, deburring, assembly, and finishing
For over 20 years in metal stamping, Ice has captured several clients in the industries of alternative energy, automotive, consumer appliance, commercial truck, fire and safety, HVACR, and air and specialty tanks.
Ice Industries Mexico qualifies for three different quality control certifications- ISO 9001:2015, IATF 16949:2016 First Edition, and ISO 14001:2015. For progressive metal stamping, they acquire hydraulic presses with 100 to 1000 tons of forming capability and mechanical presses from 100 to 3000 tons.
Moreover, they also have three more facilities in Ohio and Mississippi.
Location: Tlaquepaque, Jalisco, Mexico
Company type: Manufacturing
Year founded: 1980
Main products/ services: Metal stamping, tooling design, engineering, die-cutting, molding, CNC machining, and assemblies
PMS is capable of manufacturing both plastic and metal parts. Most of their markets are automotive, medical, aerospace, electric, electronic, and home appliances. They are ISO 9001:2015 certified and continue to contribute to the education of generations interested in the manufacturing of high engineering and technology.
There is nothing much to say about PMS; however, they claim to be a one-stop manufacturer for all your stamping needs, whether it's a plastic component or metal parts.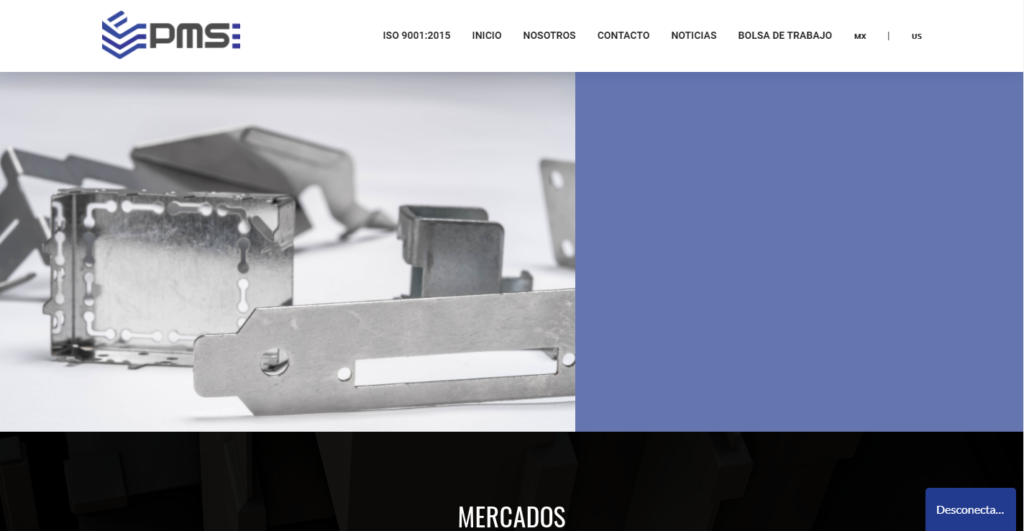 Location: Tijuana, Baja California, Mexico
Company type: Manufacturing
Year founded: 1997
Main products/ services: Metal stamping, deep drawn stamping, bending, coating, blanking, taping, welding, and machining
Merit Stamping Corporation continuously plans to upgrade their metal stamping technologies as the demand of different industries varies on them. Few of their markets include electronics, automotive, healthcare, industrial industries.
Whether it is a low or high volume of production and small or large part products, Merit Stamping can do the job for you. Currently, the company can produce custom stampings using progressive or single shot dies with 10T to 600T presses.
Location: Puebla, Mexico
Company type: Manufacturing
Year founded: 1991
Main products/ services: Metal stamping, welding, assemblies, and other applications
Autotek Mexico is a metal-stamped parts provider in the automotive industry in Mexico, the USA, Europe, and Asia. They are working with Ford, Volks, Nissan, GM, Lear Corporation, and Chrysler. They are ISO 9001:2005 certified and still making their way to give quality products and services.
You may want to check their company website for more information.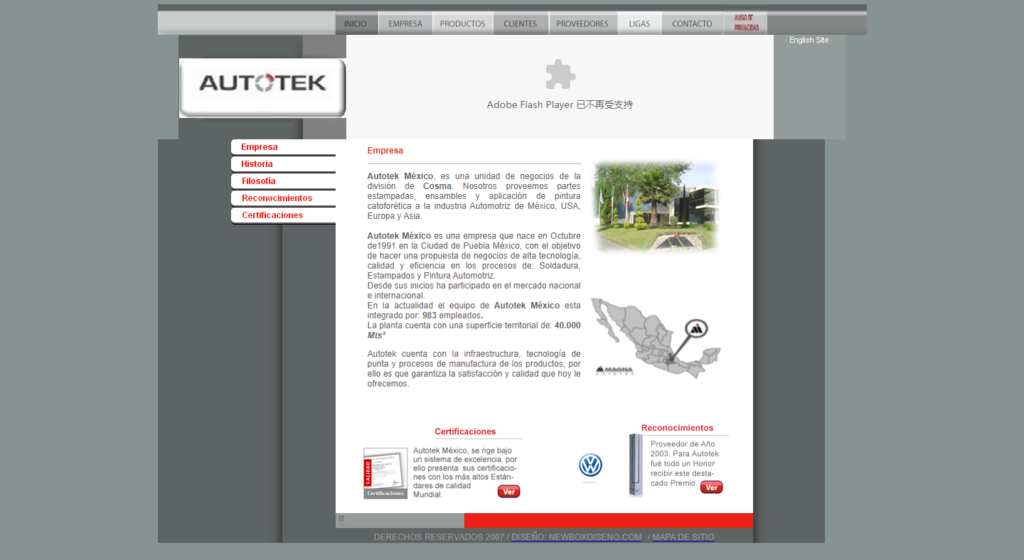 Location: Mexico
Company type: Manufacturing
Year founded: (unstated)
Main products/ services: Metal stamping, metal bending, assembly, and coating
Metalwork is said to be the largest Tier 2 company in northeastern Mexico. They have two production facilities in Mexico- one in Saltillo, Coahuila and another in San Nicolas de los Garza Nuevo León, Mexico.
The company's processes include roll cutting, laser cutting, plasma cutting, blanking, stamping, welding assembly, mechanical assembly, spray painting, powder painting, and e-coating.
They work with automotive, energy, white goods, and electronics industries with ISO 9001:2005 certification.
Location: Coah, Mexique, Mexico
Company type: Manufacturing
Year founded: 1934
Main products/ services: Metal stamping, laser cutting, machining, welding, bending, plating, coating, and double disk grinding
Since 1934, ISE has stamped metal parts for the automotive, lighting, transportation, and appliance industries. They produce components for low and high volume production runs with 50 to 2000 tons of presses.
They mainly work with aluminum, brass, carbon steel, copper, sheet metal, spring steel, stainless steel, and steel. ISE has production capabilities of heavy gauge up to 0.250″ and minimum thin gauge 0.020″.
In addition, the company's main headquarters is located in Canada.
Final Thoughts
Indeed, it is not very surprising that the metal stamping industry is growing every year because a lot of our surroundings are at least made up of stamped metals. As the demand for stamped metal expands, many companies are building their stamping manufacturers. This article will guide you on choosing your suitable partner among various choices around you.