A good investment will make a company run longer and grow bigger. Suppose you are from industries such as automotive, electronics, and alike needing stamped metals; In that case, you need to know and be aware of your suppliers or manufacturers- as it will directly affect the quality of your products. Thus, establishing your investment through trusted ones.
There are many metal stamping companies that you can depend on worldwide- one of these can be located in China, where quality and precisely stamped metals are made based on your preferences. This article will show you the top 10 metal stamping manufacturers you can find within China.
Location: Dongguan
Company type: Manufacturing
Year founded: 2012
Main product: Metal stamping die, progressive die, deep drawing die, compound die, single die, micro stamping, tooling, and more.
Gold Precision is the industry leader in customized metal stamping and manufacturing. From exacting prototyping to final product, we do everything in-house. This gives us greater precision, higher efficiency, and the ability to offer impressive cost advantages.
Our goal is to ensure your experience is smooth and painless. Expert designers and technicians use the very latest technologies and manufacturing techniques to turn your vision into exciting reality. You get the extensive benefit of our specialized knowledge and decades of experience.
We provide custom metal stamping and related services for consumer electronics, NEV, industrial automation, medical, aerospace, communications and more.
With Gold Precision, your product goes to market faster to create fresh opportunities for your sales team. You enjoy increased revenues to power your bottom line. Our greatest reward comes when you shake up your industry with the latest innovation.
If you opt for a reliable manufacturer that returns your money's worth, do not hesitate to connect with us, and we will willingly quote it for you.
Location: Shenzhen
Company type: Manufacturing
Year founded: 2012
Main product: Metal stamping die, progressive die, progressive tool, transfer die, transfer tool, single die
Changdong stamping dies company primarily produces stamped parts widely used in automotive parts such as car bumper and chassis parts. They also stamped parts for home appliances.
Changdong gradually develops with 80 staff members together with senior design engineers. They provide progressive dies and transfer dies up to 4 meters and stamping parts from 45T to 800T.
Most of the company's stamping tools are exported directly to the UK, Hungary, USA, and Russia. Today, they are also partnered with Marelli, Aikawa, and Lamex, among others.
Location: Dongguan
Company type: Export, manufacturing
Year founded: 2007
Main product: Precision connector mold parts, auto connector mold parts, precision plastic mold parts, precision stamping die
This company has a strong engineering and technical team to ensure the excellent quality of every tool & die part they make. Yongsong prioritizes their customers' needs making it their number one philosophy at an affordable cost.
They manufacture components mainly for automobile parts and home and office appliances. For die under 200T, the company's lead time is 25 days, while it takes 40 days to die between 200T to 400T.
Yongsong has been in the industry for years wherein they already establish exporting to North and South America, Western and Eastern Europe, and Southeast Asia.
Location: Dongguan
Company type: Manufacturing
Year founded: 2007
Main product: Metal stamping die, metal product, automotive part, progressive die, single die
They are significantly focused on producing metal stamping dies for home appliances, office equipment, automotive parts, and electronic components. Triangle Tool & Die can build more than 150 dies per month and tools below 500T with a material thickness of 0.1~8mm.
This company has a professional team of engineers who mainly use AutoCAD, UG, Pro-E, and Solidwork to do 2D and 3D die designs that are guaranteed low cost but high quality. They continuously upgrade and develop their technology in satisfying their customers.
Most of their markets outside China are from the USA, Europe, and Japan.
Location: Xiamen
Company type: Manufacturing
Year founded: 2002
Main product: Stamping die, stamping tool, stamping mold, stamping parts, stamping products
Jiexin Precision provides a one-stop solution for all your stamping and molding needs. They specialize in progressive die design and stamping, designing assistance, and prototyping. The company's products include automotive, electric power, electronic appliances, medical and high-precision metal parts for mobile phones.
Just like others, they are professional and experts in what they do. They offer cost-efficient and high-quality parts. Indeed, you'll get the worth of every investment you make with them.
Location: Shanghai
Company type: Manufacturing
Year founded: 2003
Main product/services: Sheet metal fabrication, metal casting, surface treatment, CNC machining
With an experienced team of 18 years, Mulan MFG paves its way to be a reliable metal stamping fabrication in China. It produces parts and components for industries like aerospace, automotive, and electronics.
Each factory for machining, stamping, and finish production uses advanced technologies to produce high-quality products and clean and eco-friendly services. They export mainly to Europe, Australia, North and South America, Africa, and Asia.
They can be your go-to metal stamping manufacturer if you look for diversity and legitimacy.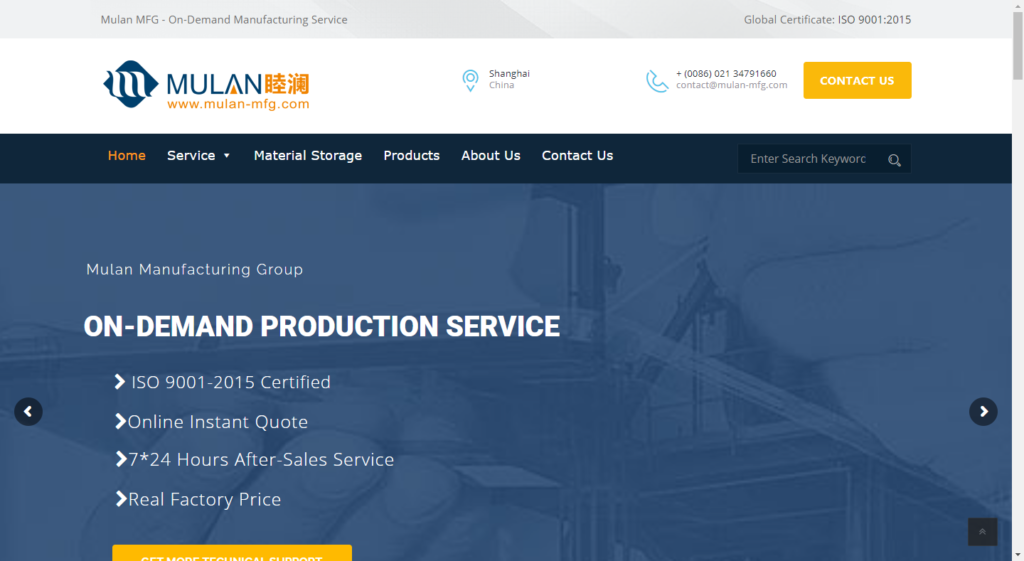 Location: Shenzhen
Company type: Manufacturing
Year founded: 2002
Main product: Precision metal stamping, stamping tooling
Hashimoto Precision Chinese Factory is over 19 years in the industry, providing competitive products worldwide. Aside from China, they also have factories in Japan and Vietnam. Most parts they build are for electronic, medical devices, automotive, and others.
They are ISO9001, ISO14001 and IATF16949 certified and possess 43 advanced stamping machines ranging from 10 to 80 tons. Their goal is to produce mass production promptly in keeping their clients satisfied, including top brands such as Canon, Panasonic, Brothers, and more.
Hashimoto can also be a good choice for your stamping needs with its long experience.
Location: Shenzhen
Company type: Manufacturing, trading
Year founded: 2006
Main product/services: Sheet metal stamping, metal bending, aluminum products, steel parts, die casting, and others
Shenzhen Bailira is a professional manufacturer of metal fabrication that is ISO 9001:2000 certified. It is the company's policy to prioritize their clients first all the time in reaching products' value in terms of the design, quality, and overall production.
They have good products and services at a competitive price. Bailira's major stamped parts go to different fields- electronics, machinery, aircraft, watercraft, automobile, etc. At present, they are exporting to countries including the USA, UK, Australia, Swiss, Germany, Netherlands, Italy, Canada, South Africa, Russia, Argentina, Israel, France, and Mexico.
You may want to check on them, especially if you are within the said catered countries.
Location: Zhuhai
Company type: Manufacturing
Year founded: 2006
Main product/services: Custom sheet metal stamping, metal welding, metalworks
Lianzhong Metal Product Factory focuses on giving 100% service, quality, and satisfaction to their customers. They are knowledgeable in making components and parts for medical equipment, aircraft, communication, appliances, machinery, etc.
This company has passed the ISO 9002 international standard quality with more than 200 trained professionals for the job. Their partners depend on them for customized sheet metal stamping.
Location: Qingdao
Company type: Manufacturing
Year founded: 2000
Main product/services: Metal stamping, stamping die, iron casting
Hailong Machinery Group is very competitive in the metal stamping industry. They have gained ISO 9001: 2000 certification and the AAA grade for credit rating. With over 21 years in the industry, they acquire markets in various countries such as the United States, South Korea, Canada, Australia, and India.
They are composed of 800 personnel with 126 technical experts of all kinds. Hailong has efficient and practical equipment, including CNC machining, stamping, welding, and molding. Over the years, they have already built their reputation locally and internationally.
Final Thoughts
Indeed, there are plenty of metal stamping manufacturers to choose from but always remember that you have to be meticulous and be keen on where you are putting your investment. You can find more information and contacts to the companies mentioned above by taking time to search their websites and see their services first hand.